Matsubayashi Tsurunosuke (1894-1932)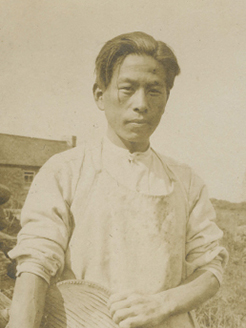 Matsubayashi Tsurunosuke is a second son of Matsubayashi Shosai (1865-1932), the twelfth head of Asahi family of pottery in Uji, Kyoto. He is famously known as a potter who built a Japanese style climbing kiln for Bernard Leach (1887-1979) at the Leach Pottery in St Ives, England. Matsubayashi was a student at Institute of Kyoto City Ceramic Research Center for three years from 1916. There he studied the latest ceramic engineering under ceramic specialists such as Hamada Shoji (1894-1978) and Kawai Kanjiro (1890-1966). Between 1922 and 1924, Matsubayashi spent two and a half years in Europe, and Hamada asked him to help Leach. The kiln he built was very efficient and helped many leading potters who worked at the Leach Pottery in the twentieth century.
After returning to Japan, Matsubayashi was employed by the Saga Prefectural Research Center in Arita and worked to improve the local ceramic industry by developing a technology to remove iron contents from local porcelain clay. He was a friend of Hamada and Yanagi Soetsu (1889-1961), but died young at the age of 38 in 1932.
Bibliography
Shinya Maezaki, "A Legacy of Matsubayashi Tsurunosuke in St Ives: Introduction of the Art of Japanese Ceramic Making to the British Studio Pottery", Michelle Huang, ed. East & West: Cross-Cultural Encounters, Cambridge University Publishing, 2011, pp. 110-21
Shinya Maezaki, "Matsubayashi Tsurunosuke and the British Studio Pottery 1924-1928: Letters from Bernard Leach, Michael Cardew, Katharine Pleydel-Bouverie and Ada Mason", Transactions of the English Ceramic Circle, vol. 22, English Ceramic Circle, London, 2012.7, pp. 117-48
Shinya Maezaki, "Matsubayashi Tsurunosuke (1894-1932): Potter and Ceramic Engineer", Hugh Cortazzi, ed. Britain and Japan: Biographical Portraits Volume VIII, Global Oriental in association with Japan Society, UK, 2012, pp. 312-23